Oakbog Terms and Policies
The best way to do business is with mutual trust and respect.
For legal clarification, the following terms and conditions apply when doing business with Oakbog:
Oakbog Professional Services LLC
907 Main Street,
Malden MA 02148
Payment Terms and Forms Accepted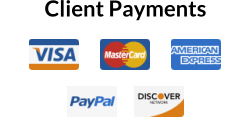 Payment is due at time of service or upon receipt of invoice. MasterCard, Visa, American Express, Discover, PayPal, checks and cash accepted. Missed appointments or cancellations with less than 24 hours notice are subject to $50 rescheduling fee.
Oakbog does not provide free technical support services.
Privacy and Confidentiality
Types of Client Information Collected (may include one or more of the following):
Contact Information (name, address, phone, email)
Information about Hardware, Software and Network Configuration in use
User/Account Names and Passwords
Credit Card Numbers
All data collected is provided by our clients and will be used only for technical support services or for billing and communication purposes. Client data is kept confidential and is not shared with other clients or businesses. Oakbog is amenable to any Privacy & Confidentiality Agreements our clients may require directly or on behalf of their clients, please forward all such documents for review.
Mailing Lists
Oakbog maintains an email list for marketing purposes. Recipients may opt-out from Oakbog marketing communications at any time by clicking on the Unsubscribe link in each message. Email addresses are not sold or provided to third parties. Oakbog does not purchase mailing lists for unsolicited email marketing.
Costs and Limits of Liability
Oakbog provides advice and services based on our professional experience and assessment of a client's needs and requirements. All reasonable efforts shall be made to solve client issues as fully as possible while minimizing billable expenses. However as technical support and problem solving is often an iterative process, unexpected issues may arise. Oakbog bills by the hour for services and cannot guarantee a maximum cost unless a Project Rate is quoted and agreed to in advance of any work being performed.
Oakbog's advice and services are designed to assist our clients with solving and managing their computers and software tools. Oakbog can advise and will make all reasonable efforts to help solve problems, but final decision making responsibility lies with the client. Oakbog does not assume responsibility or liability for any damages whatsoever, including those resulting from lost data, business interruption or lost profits, unless a Contract or Agreement is signed in advance of work performed specifying such arrangements. In the absence of such a Contract, Oakbog's liability will be limited to fix free of additional charge any configuration issues or problems caused by mistakes we made during service implementation.
Website Content Copyright and Links
The following domains and their content are owned and © Oakbog Professional Services LLC:
oakbog.com
vintagemacmuseum.com
Links to pages on sites owned by Oakbog are permitted and encouraged. All such links must display the target page in a full window or tab, not inside a frame or CSS region of the linking website. Unauthorized reproduction or duplication of this material, or alteration or modification of content on linked pages, is prohibited.