Consulting and Technical Support Services
Oakbog provides expert, experienced Apple Macintosh, iPhone and iPad consulting and technical support services in the Greater Boston area. Whether you're a seasoned user or a new Mac adopter, a professional at work or surfing the web at home, Oakbog can help. With over three decades of experience on the platform and equipped with all modern tools and software,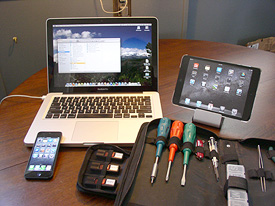 if it relates to Apple we can probably be of assistance.
New Mac Setup and System Migration
Need help getting your new Macintosh setup and running correctly? Replacing an older computer? Oakbog can unpack and install your new hardware, migrate data from your old Mac or PC, and help get things up and running.
Upgrades, Routine Maintenance and Troubleshooting
Does your computer need more RAM, a larger hard drive, or a new version of OS X installed? We offer upgrade services, routine maintenance such as software updates and system optimization, and troubleshooting when things go awry. Seeing the beachball cursor too often? Flash player out of date? Oakbog can help.
Network Issues: Internet, Email, WiFi, Printers
Get your gear online. Internet access is a must for business and communication today. Oakbog can help configure your network, setup Apple Airport and other wireless routers, install printers, and resolve glitches when problems arise. Email not working? WiFi keeps going out? Give us a call.
iPhone and iPad Setup, iCloud Configuration
Trying to configure your new iPhone or iPad? Get your iDevice synced with your computer? iOS can be simple and straightforward, or maddeningly frustrating, depending on what you're trying to do. We've been there. Whether you're confused about the whole iCloud thing or just need some basic training, let us help.
Vintage Mac File Transfers and Conversions
Are you a longtime Mac user? Do you have files stored on old disks and cartridges? Oakbog is home of the Vintage Mac Museum, a large working collection of classic Macintosh hardware, and we provide old Mac file transfers and conversion services. Let us help restore your data and cherished memories!
I've been using Oakbog for years and have had nothing but excellent experiences. I have an all-Mac based home office, including a file server and complicated home network. Adam has never encountered an issue he could not solve. He is responsive, and works very efficiently, therefore saving me time and money. He's also a pleasure to be around. I highly recommend Oakbog." – Robin, Watertown MA